KEYFACTS.
Frankfurt at a glance
Frankfurt/Main: Money turnover in the real estate market.
Total property turnover (asset and share deals) in Frankfurt am Main amounted to EUR 11.5 bn in 2021, an increase of 16.8 % or EUR 1.6 bn compared to the previous year.
The market volume of office building sales/lettings increased by a good 5 % compared to the previous year (EUR 1.9 billion) with a result of just under EUR 2 billion. This means that the trade in office properties continues to account for a relatively stable and high 28 % share of turnover in the transaction volume, as it did in the previous years (2020: 30 %, 2019: 32 %).
The freehold flat segment was able to achieve a new record result in the report year 2021. With a transaction volume of around EUR 1.9 billion, the EUR 2 billion mark was almost reached and the previous year's result was exceeded by a significant 23 %.
The segment undeveloped land also saw an extremely dynamic development. With a turnover of approximately EUR 1.1 billion, it achieved its best result to date. This constitutes a 67 % increase compared to the previous year (2020: EUR 631 million).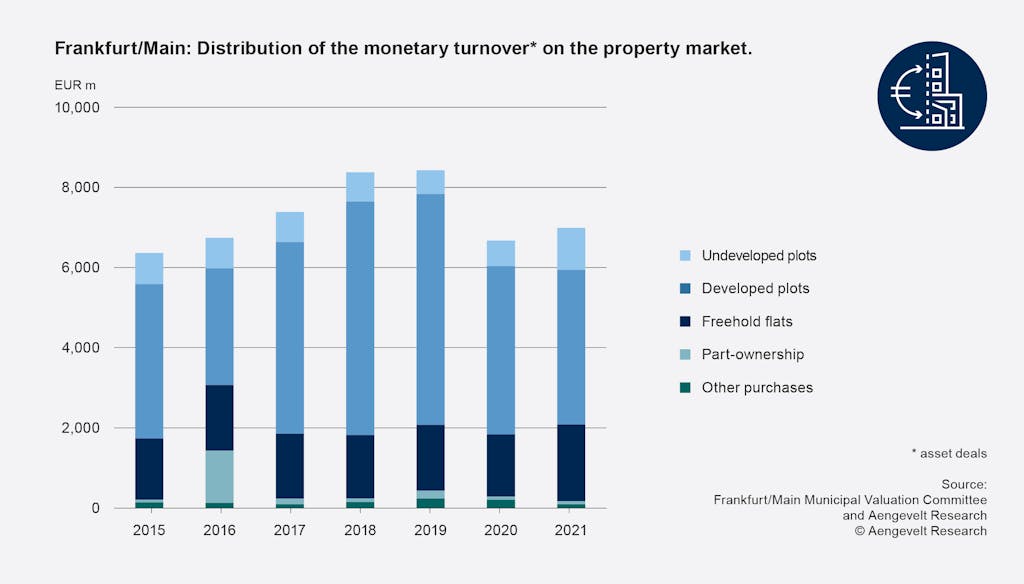 Office market region Frankfurt/Main: Development of space take-up, supply reserve and prime rent.
With an office space take-up of around 449,000 sqm in 2021, increasing momentum can be seen on Frankfurt's office market. Although total take-up was almost 8 % below the ten-year average, the previous year's result was exceeded by 35 %. Additionally, the city on the Main was able to defend its position as the most expensive office location in Germany with a prime rent of now EUR 45.50/sqm.
The total supply reserve that is available at short notice in Frankfurt rose by about 220,000 sqm in a year-on-year comparison to now 1,030,000 sqm, meaning that the vacancy rate rose from 7.0 % to 8.9 %.
Completion figures fell by 9.5 % to 200,000 sqm when compared to last year and are still higher than the long-term average. 50 % of the completed offices in the year under review were located in Frankfurt's office centres and secondary locations. Currently, around 620,000 sqm of offices are already under construction, around 140,000 sqm of which are to be completed in 2022. A significantly higher completion level above the average of the most recent decade is expected for the following year.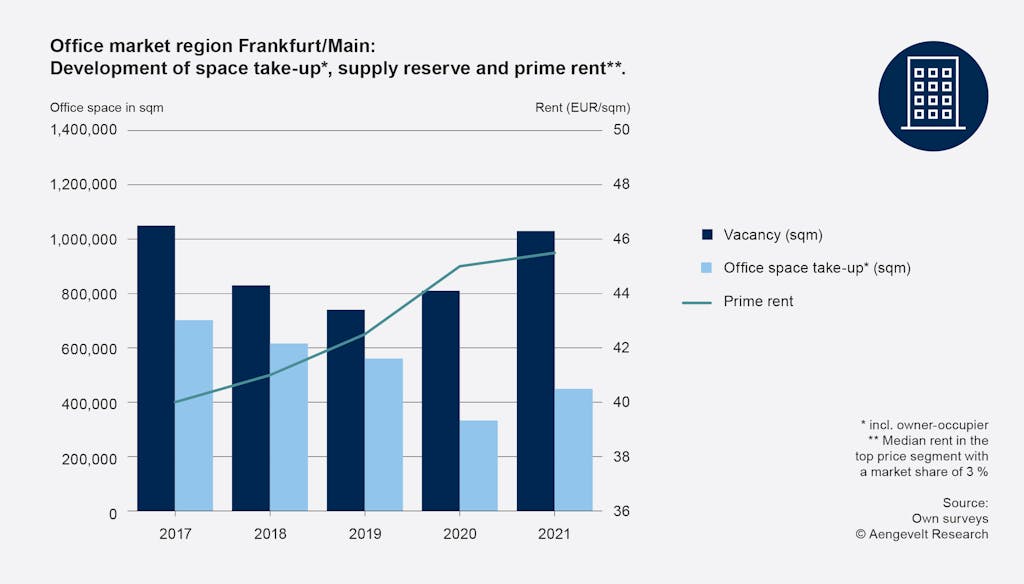 Frankfurt/Main: Development of residential investments based on monetary turnover 2021.
The sales volume generated with private homes rose again in 2021 when compared to the previous year: The total monetary turnover amounted to about EUR 487.7 million and thus rose by EUR 60.3 million or 16.6%.
With 3,443 freehold flats being sold and a turnover of EUR 1.9 billion, the number of purchases in the pandemic year is 8.7 % higher than in the previous year while turnover even rose by 23 %. Over the course of the year, the average purchase price for freehold flats rose by 13.5 % and amounted now to EUR 556,500 (2020: EUR 490,500). Permits for 4,203 new flats were issued in 2021, corresponding to a 49 % increase compared to the previous year.
In Frankfurt, asking rents for newly constructed flats (60-80 sqm, high-end furnishings) amounted to, on average, EUR 16.11/sqm in the fourth quarter of 2021 and were about 3.8 % higher than in the previous year. The current market rents in the good to highend residential areas of Frankfurt fall into the following ranges:
Historic city centre and city centre (EUR 9.50/sqm to EUR 22.00/sqm), Europaviertel (EUR 12.00/sqm to EUR 20.00/sqm), Nordend (EUR 10.50/sqm to EUR 21.00/sqm), Sachsenhausen (EUR 9.00/sqm to EUR 19.50/sqm), and Westend (EUR 11.50/sqm to EUR 24.00/sqm).
Depending on furnishing quality and location, these price ranges are exceeded by far in selected individual cases.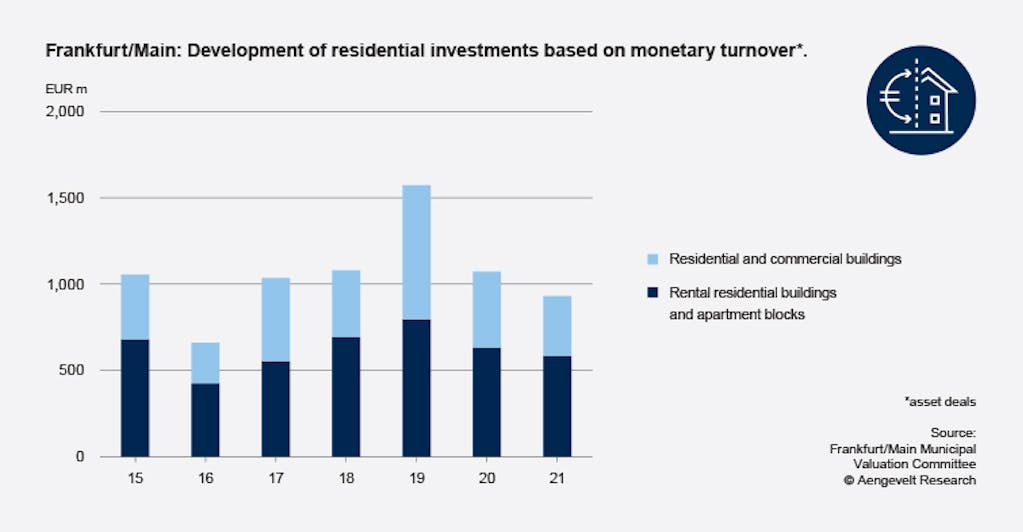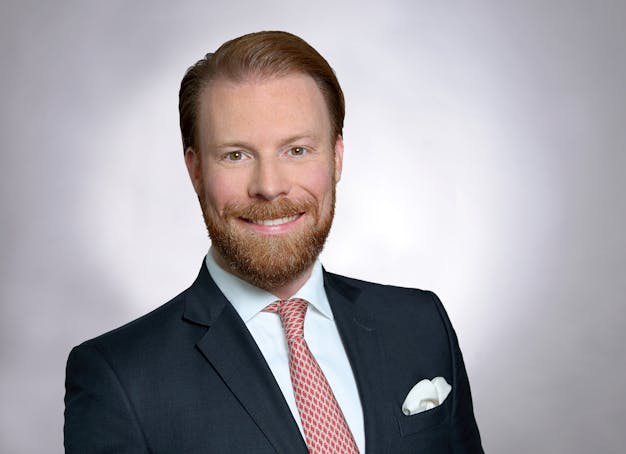 CONTACT.
Daniel Milkus
Branch Manager Frankfurt
Große Gallusstraße 9 | 60311 Frankfurt/M.