KEYFACTS.
Duesseldorf at a glance
Duesseldorf: Development of monetary turnover.
In 2022, cash sales of around EUR 4.91 billion were registered. To put this into perspective, this is around 14.6% less than in 2021, but around 5% more than the ten-year average (average 2012 - 2021: EUR 4.68 billion).
In 2022, the highest transaction volumes were achieved in the segments office and commercial buildings (EUR 1.05 billion), other properties (EUR 933 million), multi-family houses (EUR 585 million) and owner-occupied homes (single-family, two-family and terraced houses: EUR 437 million).
In line with the development in sales, the number of purchase cases also fell in the 2022 reporting year. While 4,609 purchase cases were recorded in the previous year 2021, the number of cases fell by 19.0% to 3,735 within the year.
Take-up of around 133 hectares was around 52% down on the previous year (2021: around 277 hectares).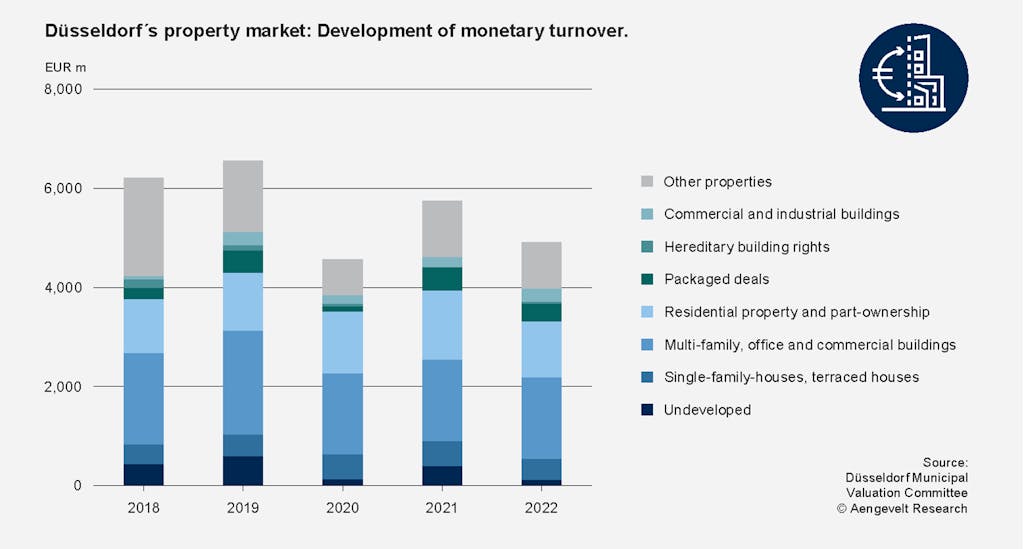 Regional office market Duesseldorf: Development of office take-up, supply reserve and prime rents.
According to analyses by Aengevelt Research, the office market in the Düsseldorf region (incl. Erkrath, Hilden, Ratingen, Neuss) achieved an
office take-up (including owner-occupiers) of around 330,000 sqm. This exceeds the previous year's result (2021: 325,000 m²) by 5,000 sqm or 1.7%. The
long-term average turnover (Ø 2012 - 2021: 383,000 sqm p.a.) will, however, be undercut by 14%.
Since 2016 (EUR 26. 50/sqm), the weighted prime rent has risen steadily due to high-priced leases in the premium properties in the city center, reaching around EUR 28.50/sqm by the end of 2019. In 2022, this value increased to around EUR 31.00/m².
A further increase in the supply reserve available at short notice can also be observed in the current reporting year: It increased by around 80,000 sqm compared with the previous year and stands at around 750,000 sqm at the end of 2022. The nominal vacancy rate for the entire office market region (including surrounding areas) thus rose from 7.2% at the end of 2021 to the current level of 8.1% within the space of a year in 2022.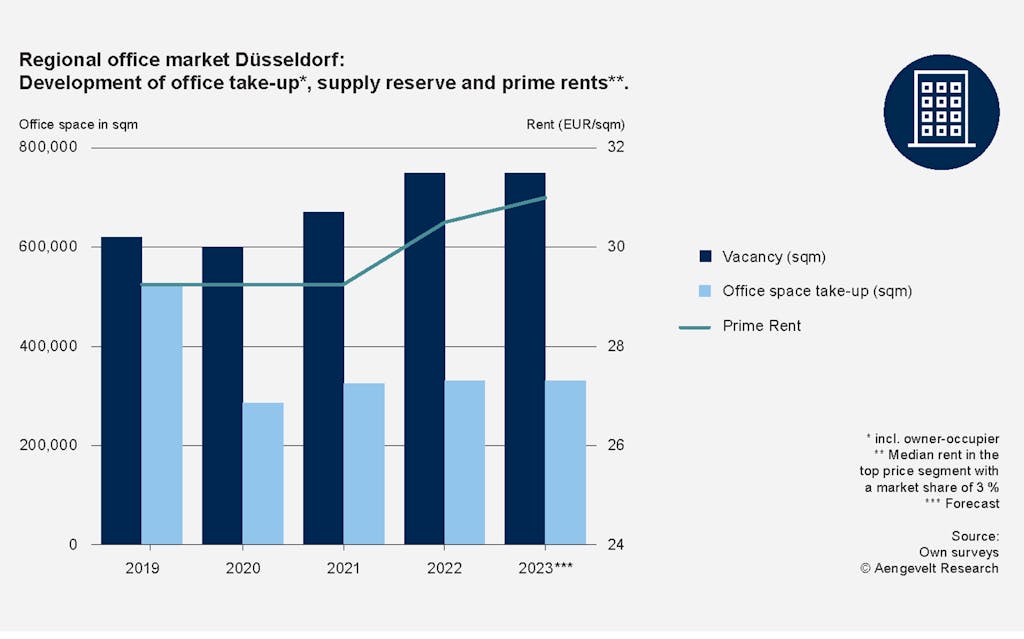 Duesseldorf: Turnover development of the market for residential property.
The real estate market for owner-occupied homes (detached single-family houses, semi-detached houses and terraced houses) and owner-occupied apartments recorded the first decline since 2018 following the increase in recent years: The EUR 1 billion sales mark was nevertheless clearly exceeded in the 2022 reporting year. The transaction volume of EUR 1.49 billion, however, represents a year-on-year decline of around EUR 338 million or around 19.1% (2021: EUR 1.83 billion).
The number of building permits decreased in 2022 compared with the previous year. While permits were issued for the construction of a total of 2,301 residential units (new construction as well as conversions and extensions, excluding non-residential buildings) in 2021, the number of permits fell to 2,190 residential units in 2022, around 25.5% or around 750 units below the average for the most recent decade (average 2012 - 2021: 2,939). The number of approved new apartments in multi-family buildings also fell significantly in 2022 compared with the previous year, by around 9.1% or 160 units (2022: 1,593 approved apartments, 2021: 1,753 approved apartments).
Asking rents in Düsseldorf continued to rise over the course of 2022 (+6.4% compared with the same time last year) and currently average EUR 14. 90/sqm for new-build apartments (upmarket fittings, 60-80 sqm living space). Rents for existing apartments have risen by around 26.7% over the past five years (2022: EUR 14.00/sqm, 2018: EUR 11.75/sqm). The Düsseldorf residential market is therefore continuing to heat up, and current forecasts indicate that average rents will continue to rise by segment.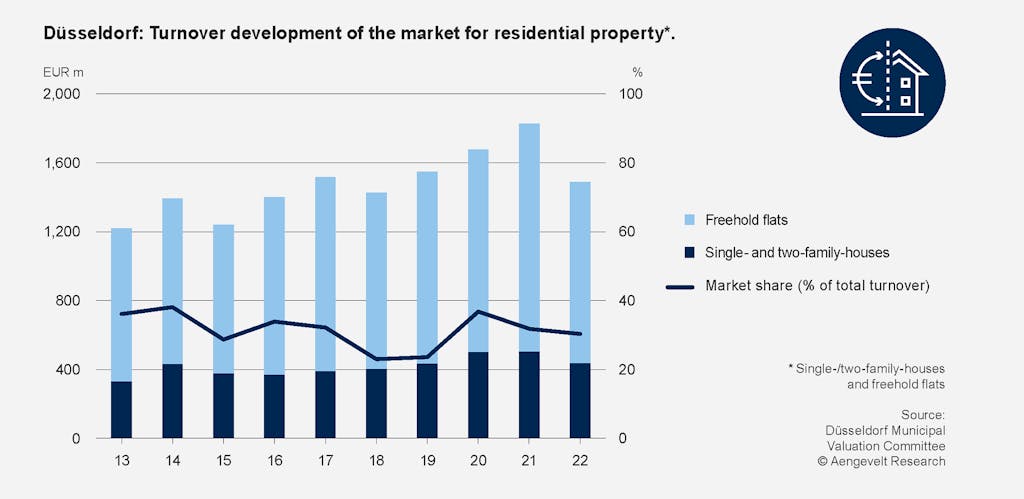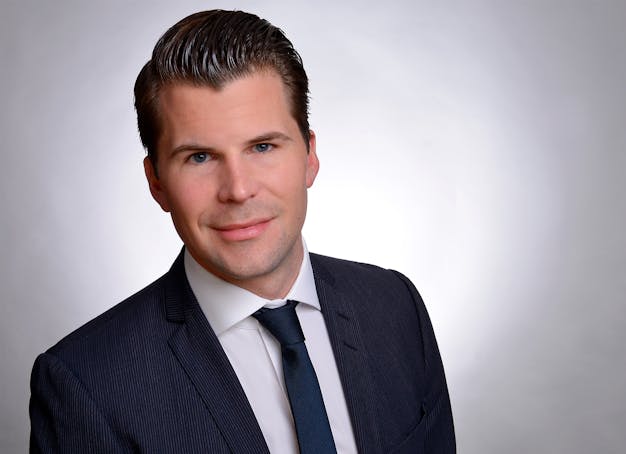 CONTACT.
Mark Aengevelt
Managing Partner
Kennedydamm 55 | 40476 Düsseldorf